---
FREE SHIPPING ON ALL ORDERS OVER $30
---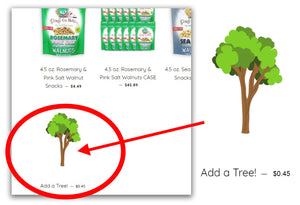 Don't forget to add a tree!
Just scroll down to the bottom of whatever product page you are grabbing your snacks from and simply Add a Tree to your cart just like any other item!
Don't worry - you won't receive an actual tree in the mail. 100% of the proceeds will be passed to Eden Reforestation, who employs underserved communities to plant and preserve trees around the world!
You can help the environment AND be automatically entered to win a 1-year supply of your favorite walnut snacks!
ADD A TREE